Kanbayashi (Nagano) [Hot springs deep inside Japan]
[Outline] Nagano Kanbayashi @Yamanouchimachi, Shimo-Takai-gun It is inn scattering to the smell of hot spring water drawn from the source from a jigokudani, literary-man stay, and culture.
[Spring quality] From a jigokudani to hot spring water drawn from the source 59.5 ° A sodium calcium salt ghost and sulfate spring
[Altitude] About 750-m natural woodland
[Environment] Several houses
[Mountain climbing and sightseeing] The mansion, the Snow Monky Park, the Shiga Heights, and Shirane-san of the Shiga mountain library and a heavy snowfall


The Characteristic
The quiet hot spring located in a yudanaka and the shibu area deepest part, and the Shiga Heights entrance.In the Ryokan of several affairs, personality and a high-class feeling are enoughs to each.The mansion and the Shiga mountain library of the heavy snowfall made the corner of the Ryokan town, and have formed the hot spring resort in which there is the smell of culture with a Ryokan.Although a hot spring is an off hot spring from a jigokudani, free-flowing hot-spring water can be enjoyed on the contrary suitable temperature only to hyperthermal springs.The almost flat (as for sudden one, only the beginning is) walk for about 30 minutes is also pleasant to improve the promenade to the jigokudani Snow-Monkey park.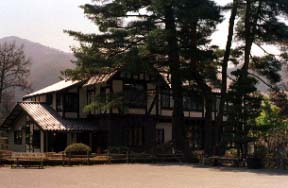 The literary scientific library which reconstructed "Shiga mountain library" old Shibusawa's residence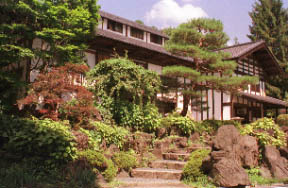 The mansion of a heavy snowfall (race scientific library)
Fountainhead
Hot spring water drawn from the source from a jigokudani, 59.5 °, a sodium calcium salt ghost and a sulfate spring
Efficacy
Neuralgia, rheumatism, a stiff neck
By Train
Tokyo -> Shinkansen -> Nagano station -> Nagano Electric Railway yudanaka (limited express about 40 minutes)
Nagoya -> Limited Express Shinano Nagano station -> Nagano Electric Railway yudanaka
Nagano Electric Railway Bus Schedule
* The kanbayashi mouth bus stop of the Shiga Heights line is located on the national road 292, and becomes on foot about 200 m to a kanbayashi bus stop.
By Car
Tokyo -> Joshin-etsu Expressway -> Shinshu Nakano IC
Nagoya -> central way -> Nagano way -> Joshin-etsu way -> Shinshu Nakano IC
8 km of Shinshu Nakano IC->R292 abbreviation
2019-12-14(Sat)
Loading...