The Characteristic
The authentic-Japanese-style Ryokan built at the entrance as the Yubata which is a stroll course to the central part, Godai bridge, and Bunjyu-do of an atmosphere remain kakeyu of a spa resort.The river of the back is also a breeding place of the firefly and can relax slowly.It became a style which extracts number of articles with a female proprietor's homemade dish, and hot-spring cure stay up to six nights can use with a low charge from the spring of Heisei 27 including a Suite.For example, the guest room 301 of the Suite refurbished in 2007 is a dining room.. It is between tatamis.. It is a bedroom. .. The price is 12400 yen if it is including tax [ of 14500 yen ], and five continuous stays with a hot spring hinoki bath.although number of articles has extracted mainly the fresh slices of raw fish of the char as a dietitian in which the homemade dish of the female proprietor standing on the cookroom is more popular than before, or a dish grilled with salt as five articles, presence has an another-dish another dish -- you are cooking.Popularity and the atmosphere of the remodeled inner bath also have a good family bath of a hinoki of the area put in calmly, and the mixed bathing open-air bath of the courtyard has also become a place of society.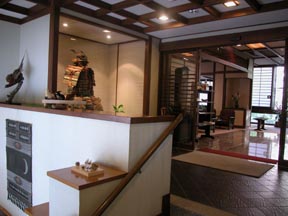 The Entrance lobby decorated with the armor transmitted from generation to generation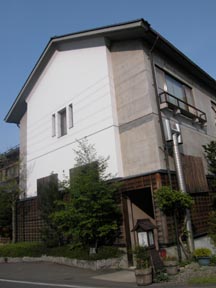 The new building guest room building of the structure of the warehouse style

Dish
A female proprietor's homemade dish, five articles.
A menu changes every day and the room sets the table.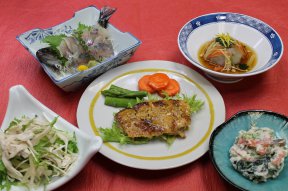 Rates
* Please refer to the above-mentioned plan list.
Indoor Hot Spring
Man-and-woman 100% of one fountainhead each un-heating.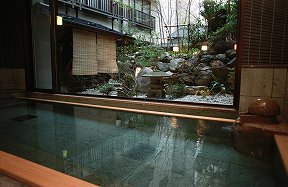 A clean and calm indoor hot spring
Open-air Bath
A garden open-air bath, (mixed bathing), free-flowing hot-spring water non-heating [ 100% of fountainhead ]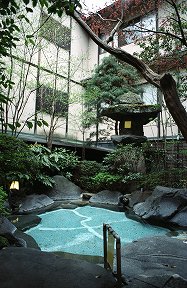 The open-air bath of mixed bathing
Family Bath
Free-flowing hot-spring water non-heating [ "family bath of hinoki" 1 and 100% of fountainhead ]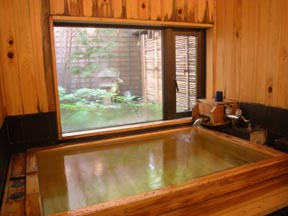 Guest Room
30 rooms, 130 persons
Institution
64 halls and a ping-pong table
Near Station
:kakeyu going bus from a Shinkansen Ueda station, a kakeyu
:kakeyu going bus from the Chuo Line Matsumoto station, a kakeyu
- Top -
1381, Kakeyu Hot Spring, Ueda-shi, Nagano-ken
Telephone 0268-44-2021 FAX 0268-44-2023
Welcome and Send-off
More than 10 persons
Parking Lot
Full equipment