The Characteristic
Mt. Tengu rises high over the main building back, and the cluster of summits of Mt. Ioh approaches the front.It is an enough hut to the Japanese highest place as Spa accommodation of the altitude of 2100 m, and an Open all year round.It is a mountain-climbing base to Mt. Tengu and Mt. Ioh, and is an enough to the position of about 2 hours, respectively.No one but [ honzawa ] can also taste two completely different spring quality in two hidden hot springs.Mt. Ioh -- an open-air bath "Unjyo-no-yu" with a good-location-to-see altitude of 2150 m and the Rhododendron metternichii var. pentamerum bath of a frozen hot-spring hut -- they were both best hidden hot spring experiences.Foundation and the Heisei 7 new building will be extended for meiji seven years.
Visit: 2~3 times besides 2001/1/16, 2005/7/21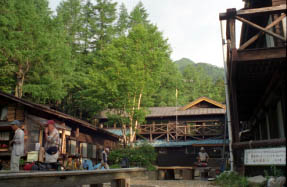 Complete view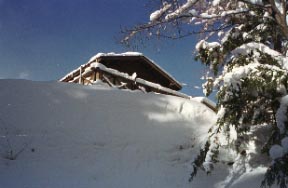 New building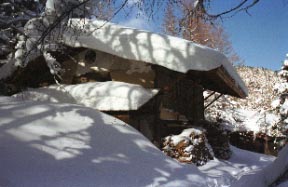 The warehouse at the time of a meiji.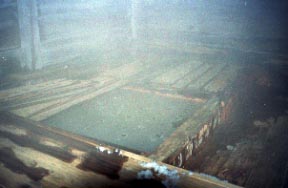 Rhododendron metternichii var. pentamerum bath.
Hidden hot spring experience where a paraffin-like film stretches to a hotter hot spring and a hot-spring side and which are not in a frozen hot-spring hut.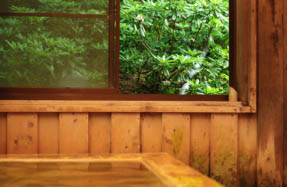 Inner bath Shakunage bloom July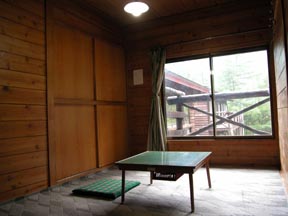 Main building guest room
Dish
Frying without coating, the meat dish, Japanese pot-au-feu, cooked in a pot, etc. of char.
Foods
It unloads fresh covering it for 1 hour and a half.It is a mushroom of a gathered at mountain in autumn.
The special dish of autumn limitation: The mushroom cooked in a pot of a gathered at mountain.From the 2 public, it can also perform dropping in daytime.
Meal place: Dining-room.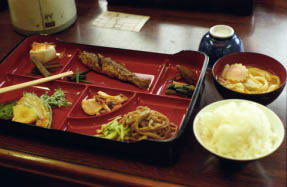 The boiled rice of the Kamado burn is [ with the foliage plant tempura like a mountain ] delicious with firewood.
Rates
* an overnight stay with 2 meals -- both consumption and bathing tax included
Staying overnight without meals
Sharing a room
Single room
New building
5,800 yen
8,700 yen
9,700 yen
11,200 yen
* Winter is obtained separately [ heating-expenses ].
Below a school child is a children's fare.
Yamabiko-sou: 7500 yen with 1 night 2 meal bedclothes
Indoor Hot Spring
It becomes hollow and they are a hot spring of a peach, and a Separated by gender.(Summer)
Winter is use and man-and-woman time shift operations about a Rhododendron metternichii var. pentamerum bath.
* 100% of the fountainhead, free-flowing hot-spring water, a 24-hour bathing possible
One-day-trip bathing
: The time that there is a day.
The inner bath of 800 yen and Rhododendron metternichii var. pentamerum bath of 700 yen, and open-air bath of 600 yen
Open-air Bath
Altitude of 2150 m,
The open-air bath of the Japanese highest place "Unjyo-no-yu"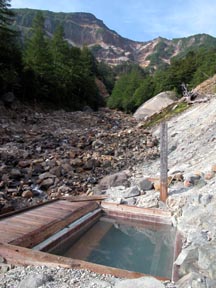 Guest Room
25 Japanese-style rooms, one room two - 10 persons accommodation
With one large room and 24 persons
Institution
A dining-room, a lounge, and campsite tent 15 tension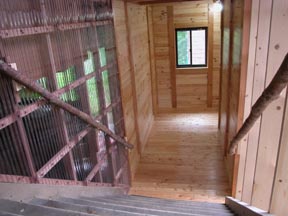 H17 and a restroom building build.
Near Station
JR Koumi Line, the Komi station (bus taxi entrainment station)
(Open all year round)
- Top -
Honzawa: Umijiri, Minamimaki-mura, Minami-Saku-gun Inside of a quasi-national park
Local direct communication, telephone:090-3140-7312
Mail: Postcode391-0011
2382-5, Tamagawa, Chino-shi, Nagano-ken
Office TEL-FAX: 0266-72-3260 09054461205

Honzawa onsen

A Natsuzawa pass, group 山小 Yayama 彦荘
(April-October and year-ends-and-New-Year-holidays business)
Parking Lot
It is 8 set with a parking space 20 several honzawa path-through-a-wood entrances and honzawa entrances, several observatories, and near a gate.