[Outline] Nagano Fukibata @Nagisomachi, Kiso-gun The fresh view of the Nagiso Tsumago inn superior and a Heights
[Spring quality] alkaline simple sulfur cold mineral spring (water-white) pH -- 8.78 18.7 ° Na230mg H2S 2.1mg total 580mg -- a smooth feeling to touch hot water can be enjoyed.
[Altitude] The altitude of a little less than 1000 m, the Touji of a Heights
[Environment] Two houses
[Mountain climbing and sightseeing] The Tsumago inn and the Magome inn, a Kakizore ravine, a Nezameno-toko, Mt. Nagiso, Kisofukushima, the Akazawa natural recreation forest, Mt. Ontake and Kiso-komagatake


The Characteristic
It is close to Tsumago and Magome here, and it is places, such as woods bathing of the tour around Kiso 11 inn, or a natural sightseeing garden, Mt. Nagiso mountain climbing, and a Kakizore ravine promenade, to enjoy slowly also in "carrying out Kiso on the 1st and being unable to see."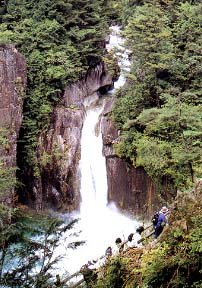 Kakizore ravine "Ushiga-taki waterfall"
Fountainhead
Alkaline simple sulfur cold mineral spring (water-white)
pH8.78 18.7 ° Na230mg H2S 2.1mg total 580mg
A smooth feeling to touch hot water can be enjoyed.
Efficacy
neuralgia, muscular pain, the arthralgia, a frozen shoulder, a motor paralysis, and a joint bruise [ a harden and ] - break - hemorrhoids, a chronic digestive disease, a chronic skin disease, oversensitivity to cold, recovery from fatigue, and after [ the illness ] convalescence
Peculiar Efficacy
They are a crack and diabetes only in chronic skin disease and women's-diseases -.
By Train
Tokyo -> JR Chuo Line (express train) Nagiso station
Nagoya -> JR Chuo Line Nagiso station
From a
south Kiso station
to a welcome and send-off (Fuukinomori)
By Car
Tokyo -> Chuo Expressway -> Iida IC -> about 35 km
Nagoya -> Chuo Expressway -> Nakatsugawa IC -> about 28 km