The Characteristic
Kiriaki hot spring
:
A snowplow is worked once in about 1 hour with a heavy snowfall area, and the pursuit of two inns is maintained in the deepest part of the unexplored region "akiyamago" of a canyon, and winter.But it is not a place which can go by an odd feeling.Please avoid the day of heavy snow and cancel even an On the day.I think that it understands.The wide range and hot hot spring of the Nakatsugawa left-bank riverbed is ready.The sleeping tub was enjoyed, while it is divided into some and the bathtub of rockwork looked at brightness of a star.2008/9/10 visited again
although it was not able to reach up to the day of 2000/2/24 heavy snow, and the Kiriaki hot spring -- Sakamaki this side -- a surface avalanche -- it was just desperate.
But I would like to unearth an open-air bath out of snow targeting the day of fine weather.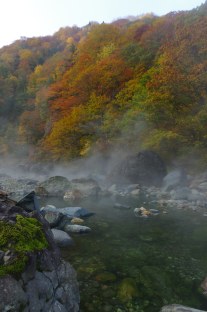 2023-10-28
Akiyamago Onsenkyo
:
The medical-treatment spring of the color of a ferruginous with crimson small Akazawa hot springs including "the extempore open-air bath of the dry river bed dug with a shovel" of the Kiriaki hot spring and a mansion hot spring are Onsenkyo which has the characteristic to perform at once in the Wayama hot spring of an unparalleled view, and each, and cannot respond to the hot spring where included sulfur became cloudy, and it at a hot spring lover at them.
Uono River and a small fish river are known as a mecca of char, and the small fish river has not carried out in particular foundation seed preservation and discharge.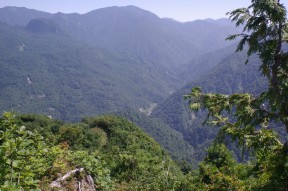 The center from the Mt. Torikabuto ridge, the "Kiriaki hot spring"
The back is a few people could reach "Mt. Saburyu."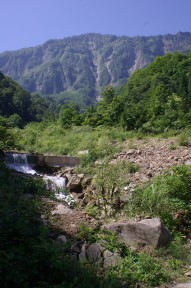 Mt. Torikabuto
It is reference also here.:
Mt. Torikabuto and the Kiriaki hot spring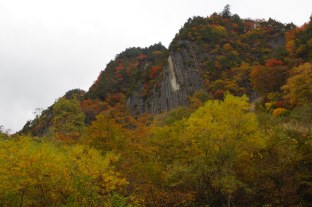 布岩, prismatic structure Red leaves at the end of an October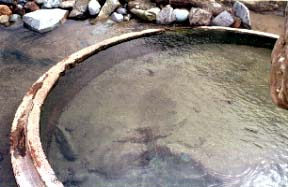 The fountainhead of a dry river bed
It is in the lower stream and the dry river bed in Nakatsugawa for a while from the juncture of Uono River and a small fish river.There is the good smell of decent sulfur in the 55-degree fountainhead.An open-air bath for exclusive use is built with a shovel, the water of a river is drawn, temperature is adjusted, and it is completion.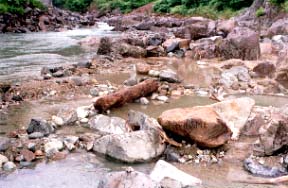 The extempore open-air bath of a dry river bed (there are about six pieces)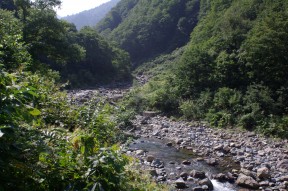 From the Kiriaki hot spring suspension bridge to the Nakatsugawa ravine
Public Bathhouse (Akiyamago)

Small Akazawa hot spring Rakuyou-kan
(Hot-spring-for-day-trippers medical-treatment institution)
* The fountainhead carries out sounds-like-Gobo-Gobo jet with carbon dioxide from a crimson hot spring and a pouring gate.