The Characteristic
River Daiya flows through the deepest part of the Naruko Onsen area, and the neighborhood, and, downstream, a little famous places "Naruko valley" are.The whole hot spring resort pressured upwards steam in everywheres, such as a garden, a field, the road side, and the burnt sulfurous smell has hung over.It is dotted with an inn near each fountainhead, and spring quality is also up to inns, such as a hydrogen sulfide spring and an alkaline spring.It is a hot spring which efficacy was said to various illnesses, such as a furuyu in Founded-or-started-to-use-this-hot-spring 300, and a skin disease, as the enough, and is used for a hot-spring cure from ancient times.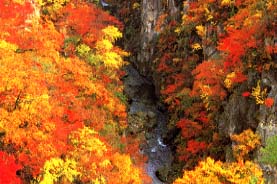 The red leaves of a Naruko valley (from the middle of the month of an ordinary year October to the beginning of a November)
A 2.5-km promenade is located along a ravine.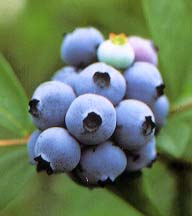 A blueberry relish is at the beginning of the beginning of an August - a September.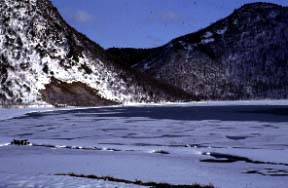 Gata-swamp
Hanabuchi mountain 984m (Naruko skiing ground)
There is a hiking course of about 2 hours about a ridge way from a gondola terminal to Onikobe.

(The photographs of this page are a tourist agency and Takuhide Mr. offer)
Fountainhead
A sulfur containing-sodium hydrogencarbonate and sulfate spring 100 °
The hot spring of pH 8.8 to 9.2 alkalinity, and a crane crane
The touch used as transparency and colorlessness and a trolley.
(Hot spring of a Takuhide)
Efficacy
General hot spring efficacy besides chronic skin disease, chronic women's-diseases, cut, burn, and diabetes -.
Public Bathhouse
The hot spring (adult of 150 yen), Naruko Waseda Sajiki-yu (adult of 500 yen), and Kawatabi public bathhouse of a waterfall (adult of 200 yen)
By Train
Tohoku Shinkansen use
Tokyo -> Shinkansen about 2 hours, and Sendai station -> Shinkansen about 15 minutes, and Furukawa station -> Rikuu Tosen high speed about 40 minutes, the Naruko station
By Car
From the direction of Tokyo
A Urawa IC-> northeast way, 30 km of about 375 km-> Furukawa I.C->R47 abbreviation, a nakayamadaira