The Characteristic
It is said that the enough main building and temple bell rock of the hall straddled and remained even if many floods were encountered from the first foundation of Showa and it carried out all the ridge styles of the Separate from main.Revival was decided if a main building remains and the Separate from main has been rebuilt.It is said that the transfer place has gone bankrupt and returned at once although it had passed into the help.It adheres to Yoyogi from foundation to the present, and has become an inn which can be proud of the traditional architecture which is not content only with environmental merit at the beginning of a main building as if it symbolized the prosperity at the time of the Iga line.The bathtub of the original cylinder type with which the flat black river stone was embedded is also with [ of one hot spring ] value.A guest room is individual again and there are a Separate from main of the folk-traditional tearoom style, a new building Separate from main of precious wood, etc. between the Kaedes of a view between the rocks of a natural base rock.Whatever it it at the time of foundation, this peaceful environment is wonderful. [ by which it came only according to the river descent ] [ a place and ]
Tempolary closed.(2018/06 sorry for our not clear information because we can't get through by phone.)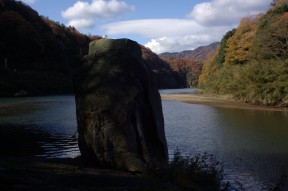 The inn built in encounter of a river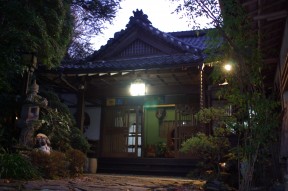 The Entrance entrance of precious wood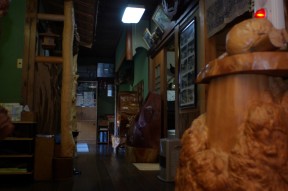 It is impressed to the inside of a hall of precious wood.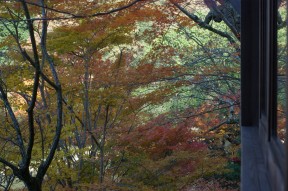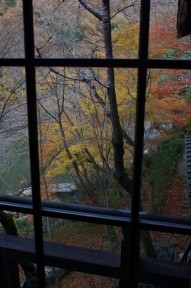 The red leaves of late autumn
Dish
It is a hope at the time of the bean paste cooked in a pot of a pheasant cooked in a pot / wild-boar hot pot / duck cooked in a pot / carp, and reservation.
It is a pheasant cooked in a pot on that day:
Taste resistance to the teeth excels a Jidori chicken and a culled chicken so that it may understand, even if it also sees yellow fat.a madam -- broth -- soup was seasoned with sugar and soy sauce.Mouthfeel in which are the style of sukiyaki and parboiling of very delicious chicken breast of a bill is also strong.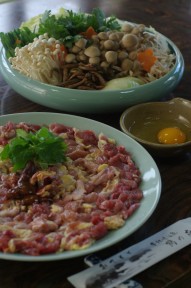 Pheasant cooked in a pot (photographs are the about 3 public)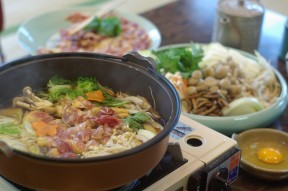 Foods
River fish, such as a carp, a sweetfish, and an eel, a wild boar and a wild duck, a pheasant, etc.
Example
: Bill and Cooked in a Pot (Meat, Brassica Pekinensis, and Chrysanthemum Coronarium - Obtaining and Going Away - Shimeji Mushroom, Royal Fern, or Bracken, Burdock, Onion, Konnyaku and Bean Curd), and Row Slices, Fruit, Pickles and Boiled Rice
Meal place: The every morning and evening room or a hall.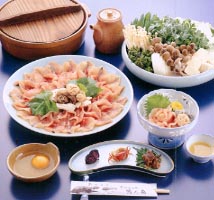 Mugen-nabe (this photograph inn offer)
(The slice of a carp, the carp liver which carried out hot springs, miso tailoring)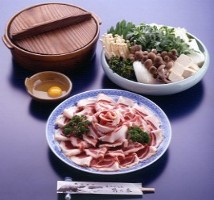 The wild-boar hot pot of a wildness wild boar (this photograph inn offer)
* It is hunting season limitation of a winter season.
Rates
13,000 yen (15% of service charge, and consumption tax - excluding bath tax)
It is with a restroom (flush lavatory) for every room.
* A Rates is based on the use number.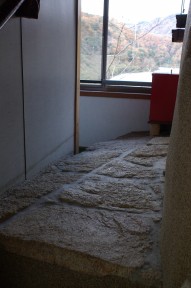 To a guest room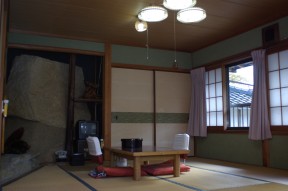 The guest room between the enough rocks of feeling of purity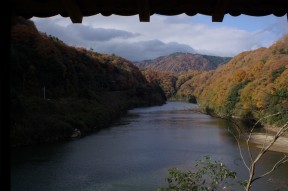 The view from a drawing room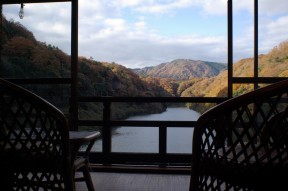 From a hall
Indoor Hot Spring
Man and woman each 1
* If the output of the mineral spring is decreasing.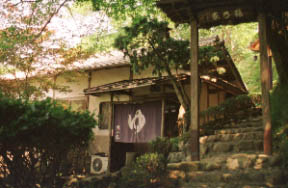 Bath structure.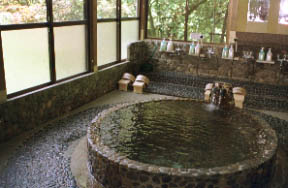 The circular bathtub of a river stone is pleasant.
Family Bath
It is an except about the time of a charter possible, however rush hours by demand.
Guest Room
Five rooms, 20 persons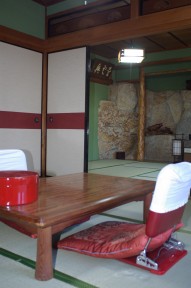 A natural rock face is exposed.
Institution
An 18-mat hall and a large room
Near Station
Kansai Line, the Tsukigaseguchi station
Welcome and Send-off
At the Tsukigaseguchi station
- Top -
88, Tayama, Minami-Yamashiro-mura, Soraku-gun, Kyoto
A telephone/fax: 0743-93-0515
Parking Lot
Several cars.Campers with wide car width cannot be entered to a private road.