The Characteristic
The Rishiri mountain which rises high at sea, and the mountain over 1700 m of an active volcano are the northernmost Japanese one hundred famous mountains called a rishiri.The valley eroded since it was an old volcano which can be seen gracefully and in a feminine manner in the ridgeline which pulls a hem for a long time, and cannot check a burner, either is deep, and it also shows the expression of the steep steep rock peak in the top Kutsugata side.It is the horizon of 360 degrees to Karafuto (vacantly confirmation ?) at the Soya cape from the Rebun island, and its point at a view.Distantly from Mt. Komagatake, Niseko, Tokachi and Shiretoko, and the continuing volcanic zone, a hot spring does not have activities of a Separate from main and the last conventionally, either, and they are used by Sagidomari at drilling on the island of an isolated volcano called thousands of year before by a gush, hot spring water drawn from the source, or lorry around Heisei 9.After having pushed the bicycle one step one step from the sea, going up to the top and standing on the top, the hot spring became one hot spring for which an enough is appreciated on this island.It is an island for the rich nature unique to a detached island of only 780 yen (H 19 years), such as one way 2, to be left behind by ferry from Wakkanai at the northernmost tip in Hokkaido for about 100 minutes, and for the view and a feeling of opening of the good-location-to-see Rishiri mountain from a cycling road, an ocean, and the Rebun island which are 24.9 km of extension be very wonderful, and come to visit any number of times.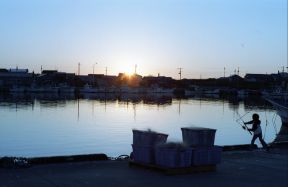 Evening glow of a Hondomari port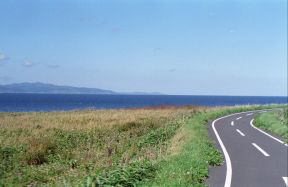 About 25 km of extension, the Rishiri cycling road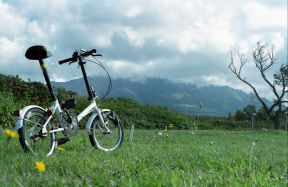 A west reference point, the Rishiri-cho athletic park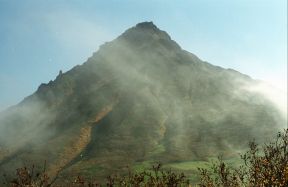 Rishiri mountain (rishiri)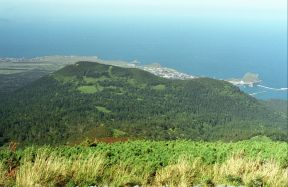 From the sixth stage of the Rishiri mountain to a Sagidomari port
A left hand, the Rishiri island northernmost end, a Hondomari Fuji cape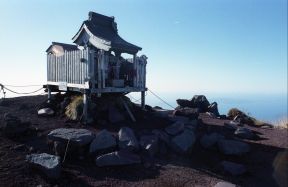 The Rishiri mountain, 1721 m (1718 m of Kitamine)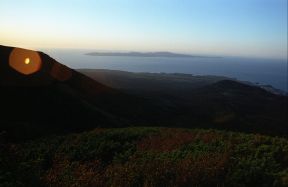 The account of the Rebun island mountain line of evening is the 100 peaks and spring Japan here:
The Rishiri mountain and a rishiri
To south Mine (1721 m), it is prohibition on passing from Rishiri Yamakita Mine (1718 m) for crash.
Fountainhead
A sodium salt ghost and a hydrogencarbonate spring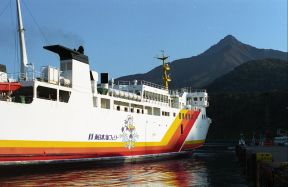 An East Japan sea ferry, a Sagidomari port and the Rishiri mountain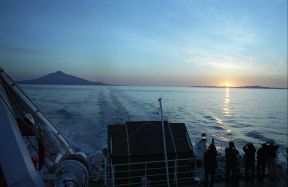 The setting sun which sets in the ferry last flight and the Rebun island
Efficacy
Neuralgia, muscular pain, etc.
Public Bathhouse
Rishiri recreation institution
Rishiri warm swimming pool Yuei-kan
By Train
Wakkanai station
-> about 500 m-> Wakkanai ferry terminal
By Car
A car can also be loaded for a ferry.
The parking lot of a ferry terminal has
free parking
in front of the ALL NIPPON AIRWAYS hotel 2500 yen surely on the 1st.
Wakkanai ferry terminal -> East Japan sea ferry -> about 1 hour and 40 minutes -> The Rishiri island and a Sagidomari port ->
rishiri
Rebun island -> East Japan sea ferry -> about 40 minutes -> The Rishiri island and a Sagidomari port ->
rishiri
Airplane
Chitose airport -> about 1 hour ->
Rishiri Airport
Sagidomari (Hondomari)