The Characteristic
The Shirane-san foot, alp Onsenkyo leading [ Japanese ].The hot spring which makes the Shirane-san boiling pot consider and which became cloudy light-blue.A hot spring field collect minerals is begun and whole Onsenkyo is wrapped in the sulphuric good smell.Efficacy is also high, the spring quality of the acidity that a hole will open in two days in a pail can, and included sulfur is used as a spa resort from ancient times, and the inn which can be cooked for itself is also left behind.There are also many natural sightseeing courses and this Shirane-san is famous for the gregarious-life place of queen Komakusa of alpine flora.
Every year customary Komakusa festival:
Heisei 20, and 7/22and23 A
flier
, a
manza tourist agency
besides a market for vegetables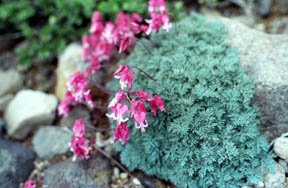 The large stump which is Komakusa in this Shirane-san
hiking -- account:
Shirane-san and this Shirane-san, and a manza - 100 peaks and spring Japan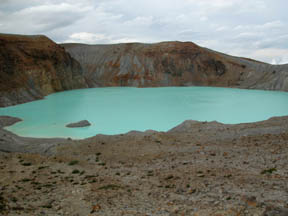 Boiling pot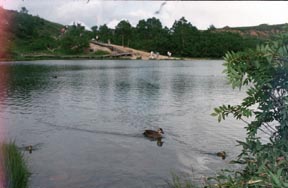 Yumi-pond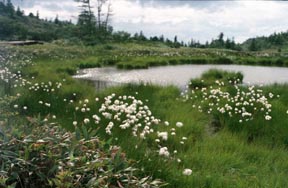 Cotton grass is the marshes 7/16 of full bloom and a Yumi-pond.
Fountainhead
Acid sulfur containing-sodium sulphate-chlorides hot spring
(Hydrogen sulfide spring), clouded white 75 ° pH2.3 Square-stock-box cooling system (fountainhead concentration maintenance)
It is Houkokukan (Niga-yu) fountainhead data above.
Efficacy
The rheumatism, neuralgia, gastroenteropathy, women's diseases, a chronic skin disease
By Train
Joetsu Line and Agatsuma Line use
Ueno station -> Manza kazawaguchi station (new limited express Kusatsu number about 2 hours and 38 minutes)

Joetsu Shinkansen use (the direction of Niigata)
Niigata station -> Takasaki station (about 1 hour and 20 minutes)
Takasaki station -> Manza kazawaguchi station (Agatsuma Line about 1 hour)
The Direction Going Bus about 45 Minutes of Manza from Manza Kazawaguchi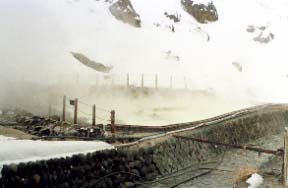 Manza hot spring field collect minerals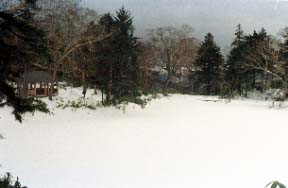 Ushiike-pond.A walk can be enjoyed involving a promenade.
By Car
From the direction of Tokyo
Kan'etsu National Expressway -> Nerima IC-> Shibukawa and Ikaho IC (about 75 minutes)
They are R17.R353.R145, and manza expressway (car of 1030 yen) about 110 minutes from Shibukawa and Ikaho IC.
* A summer's Shirane-san course is free convenient from Kusatsu in R292.
From the direction of Suzaka in Nagano
(middle of the month of the end of an April - a November)
Notes winter traffic stop
Nagano Expressway -> the prefectural road from Suzaka east IC, Maki - the Hoshimata line (about 60 minutes)
Contact
Manza tourist agency: 0279-97-2152