The Characteristic
The inn of a straw-thatched roof which there is an earthen floor and the sunken hearth built in pursuit of the village-headman building of an enough genuine article in the mid-80s.There are not television, sing along machine, a vending machine, etc.Please relax in the bath the sunken hearth and the total hinoki were [ the bath ] extensive.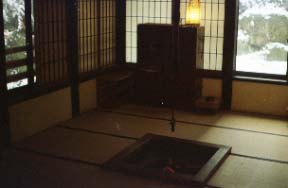 The thing in which the heart is made to settle is shown in the warmth of a cold and silent, the falling snow, and the hand held up to a sunken hearth, the perfume of the Quercus serrata which burns red with charcoal, and here.

Dish
Brown rice vegetable diet maigre dish
Brown rice and vegetables spring and according to water, no agrochemicals, and organic farming
Meal place: Dining-room
Breakfast is an unpolished rice gruel.
Rates
* an overnight stay with 2 meals -- consumption tax included and excluding bath tax
Same-price-all-the-time Rates
\15,750 \18,900
It calls at the room.
Indoor Hot Spring
A hinoki bath, the man and woman each 1
Guest Room
Six Japanese-style rooms (1 room with an inner hinoki bath) 24 persons
Institution
Multiple-purpose large hall (with grand piano)
Please ask an operating condition, the Rates, etc.
Near Station
From the Numata station to the Kawaba circle bus 40-minute Kawaba Spa bus stop
- Top -
Postcode3780102
2077-1, Kawaba Yubara, Kawaba-mura, Tone-gun, Gumma-ken
Telephone 0278-52-2220 FAX 0278-52-2234
E-MAILkayanoie@beige.ocn.ne.jp

Welcome and Send-off
From the Kawaba Spa bus stop to a welcome and send-off