Hotaka(Gunma) |Hot springs deep inside Japan
[Outline] Gunma Hotaka @Kawaba-mura, Tone-gun Effect of a straw-thatched roof
[Spring quality] Alkali simple spring Water-white
[Altitude] About 850 m, the hot spring in a gorge
[Environment] Three-house scattering
[Mountain climbing and sightseeing] The waterfall of Hotaka-yama, the Akakura ravine, Kichijoji, a hotaka shrine, the rock Kannon, apple hunting and a hotaka stock farm, Hotaka Olympia Skiing Ground, a Kirie-hyakkeikan, and a Fukiwari

The Characteristic
The quiet hot spring of the mountain which is near unification of the Usune-river at the Kawaba-mura deepest part and the foot of a hotaka, and an Akakura-river, and was blessed with a mountain stream and rich nature.Hotaka-yama mountain climbing -- natural [ stroll / beech primeval forest /, stroll / Akakura ravine / and ] -- mountain stream fishing can also be enjoyed.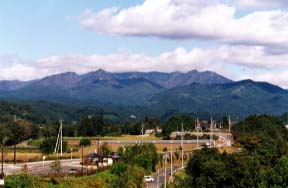 It is an enough hot spring to the south in Hotaka-yama (2158 m).
(A hot spring is near a photograph center.)
The enough Asahi hut of a trailhead and the Kawaba Yano operate place are about ten minutes in a car.
Fountainhead
an
alkali simple spring
-- water-white
Efficacy
Lustrous skin, excoriation
By Train
Joetsu Line use
Ueno station -> Numata station (the Limited Express Minakami number about 2 hours)

From the Numata station to the Kawaba circle bus 40-minute Kawaba Spa bus stop alighting
From the Kawaba Spa bus stop to a welcome and send-off
Joetsu Shinkansen use
Tokyo station -> Jomokogen station (about 1 hour and 15 minutes)

We cannot recommend you 10,000 yen or more by taxi.
By Car
Kan'etsu National Expressway -> Nerima IC-> Numata IC (about 1 hour and 30 minutes)

It is about 15 minutes from Numata IC.