The Characteristic
In the middle of the Muromachi period, the Okudaya ancestor who suffers from the illness discovers by Yakushi Nyorai's guidance about 500 years ago, and it is told that the Founded or started to use this hot spring was carried out from having cured the illness.The miraculous fountain of the yellow-brown color of rich efficacy feels salt with a sufficient degree by the taste which was piquant when it is a carbonate spring like an included soda pop and the carbon dioxide was drunk first.Including various components, spring quality was deep, it was drunk especially, and the effect said it to gastroenteropathy as the enough, and it is used as a spa resort for many years.It is in along the clear stream of the Ohora river, and can enjoy fishing, a swim in a river, and waterfall watching.

Hot spring efficacy writing of an Edo term
"Type of spring"
Okudaya possession
palsy -- efficacy, such as - bruise, backache, a Kikyo-Kekkyo, anemia, and hemorrhoids, is written.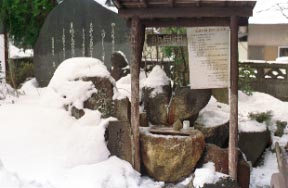 Okudaya drink-spring place
Or [ there is no person who became gastric cancer in transparency and colorlessness, a carbonate spring like a soda pop, and this spa ].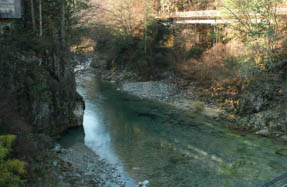 The clear stream of the Ohora river where the fishing magazine was also introduced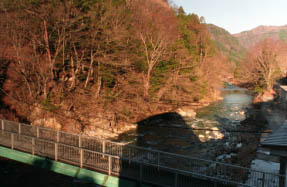 The Ohora river in front of an Okudaya.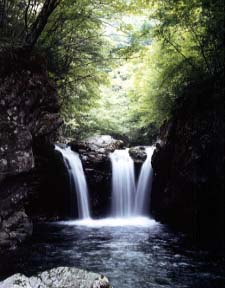 "3 Thu waterfall"
From a Gandate park, it is a takimi promenade and is 600 m.
One of the 100th elections of the waterfalls in Japan "the waterfall in Neo" is begun in Osaka-cho, and 180 waterfalls of 5-6 m or more of difference are located in it.
The town of waterfall watching.
Event information and a schedule are important point contact.
- The end
local collection hall at mushroom festival
of 9/
The visitor of stopping can have a mushroom dish besides rice with matsutake for free.
- The end
Gandate valley maple festival
of 10/
The store of no charge and other local products comes out of a char Sake which flavored by grilled fish.
The
account of the Ontake mountains line
(100 peaks and spring Japan)
Fountainhead
An included carbon dioxide, sodium, a hydrogencarbonate and a chlorides spring, 15.4 °
Water-white (air is touched and it is in the Akashibu color), fine hydrogen sulfide odor, pleasant cooling sensation
Efficacy
Gastroenteropathy, neuropathy and women's diseases, cardiopathy, hemorrhoids, a chronic digestive organ, diabetes, gout, liver disease, and chronic constipation
Public Bathhouse
The hot spring of a Himeshaga (a reddish-brown hot spring, those with a drink-spring place)
By Train
Toyama -> Takayama Line, an about 2 hour -> Hida-Osaka station
Nagoya -> Takayama Line, an about 2 hour -> Hida-Osaka station
By Car
Toyama -> R41 alp course, about 2 hours, and a half -> Hida-Osaka
Tokyo -> central way -> The Nakatsugawa IC->R 257 or 1 hour, and a half -> Hida-Osaka
Nagoya -> Meishin way -> Ichinomiya JCT -> Tokai Hokuriku National Expressway -> Gujyo-hachiman IC->R472andR257, about 1 hour, and a half -> Hida-Osaka