The Characteristic
The hot spring which wells ups to the unexplored region surrounded by 2000-m class of mountains, such as Hiuchigadake, Aidu-komagatake, and a Mt.Taishakusan.It is an emotional hot spring that a Ryokan and a cottage home stand in a row on the both banks of a hinoemata river, an irrigation canal is pulled to a Ryokan town, and there is a washing place etc.There is especially a hot spring struck in Showa 48, if the hiker to Oze, Okutadami and Hiuchigadake, or the Aizu piece can enjoy a hot spring after mountain climbing, and it is popular.The hinoemata kabuki etc. by which the hinoemata was specified as important immaterial ethnic culture goods are also remains, and an old history is also a remain village.
From an observatory to HiuchigadakeIn an observatory, it is on foot and is about 500 m.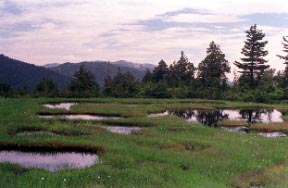 The Hirosawa rice field cost marsh and Aidu-komagatake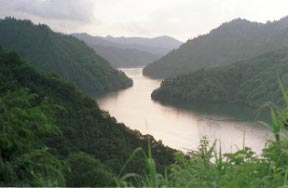 Okutadami and a silver mine -- a lake.
Traffic to Oze
Up to the regulation-of-private-cars October end of the month between the Miike-Numayama Passes
5 - the congestion day to an October are driving prohibition from 7 entering.
It operates at intervals of shuttle bus use and 5 to 30 minutes from Miike and 7 ON parking lots (1000 yen).
Coin comes out of a parking fee by accommodations.
Ozenuma
It can do by the eruption of Hiuchigadake far a long time ago.Lakeside circulation is 2 to 3 hours about the bank covered with Kimichi.About 50 minutes after the Numayama Pass.

Ozegahara
The greatest marsh in Honshu surrounded by 2000-m class of mountains, such as altitude of 1400 m, Hiuchigadake, Mt. Keiduru, and Mt. Shibutsu.It crosses to 6 km of east and west, and 2 km of north and south, and is dotted with a countless high-moor pond and floating island.Alpine flora is in all glory from a May to a September.The Dankichi-new-root course from the Ozenuma course from the Numayama Pass, about 3 hours and 10 minutes, and Miike, about 2 hours and 40 minutes.
Fountainhead
an alkali simple spring -- water-white 55 °
Efficacy
The regimen and recovery from fatigue after illnesses, such as a rheumatism disease, motor dysfunction, neuroparalysis, and neurosis
Public Bathhouse
Hot-spring 2000 July new building and komanoyu sport hall of a Hiuchi "area of ALZA Oze"
By Train
The
Aizu Kinugawa Line use
or Aizu Line
Asakusa -> about 176 minutes, Aizu-Kogen station -> hinoemata going, or the Numayama Pass going bus 90 minutes
a Tokyo -> Joetsu Shinkansen -> Urasa -> Joetsu Line Koide -> bus -- a silver mine -- the exit -> bus of common -> ship (Okutadami sightseeing) -> Oze, and a hinoemata
Hinoemata central alighting on foot 2 minutes
By Car
Northeast way -> Nishinasuno salt field IC->R400, Shiobara hot spring -> Ogashira tunnel ->R121, Sanno tunnel ->R352, -> hinoemata via the Nakayama tunnel, about 2 hours
Kan-etsu way -> a Koide IC-> Okutadami course, about 2 hours, a half
(Winter closing)
Banetsu-Highway -> Aizuwakamatsu IC->R121, an Aizu-Tajima ->R289 Komadome tunnel course, the Nango -> hinoemata, about 100-km 3 hours