The Characteristic
The wooden isolated lodge built in the primeval forest called the Towada ocean of foliage.It is an inn which there are a main building using a local wood Harigiri and wood named Sen, and a zelkova and a new building of after construction and a steel rod also without between, and a desire-for-the-real-thing and city group can also satisfy.Especially the main building has left the old air which has a cashier and in which the clerk is as it is.It seems that the bath boldly using a beech Log is built by the bathtub on the fountainhead, it cannot say not at all, but it is comfortable and all strength escapes from the body the moment a hot spring wells ups and goes up from the gap between framing tables with a foam.Aomori Khiva was used for bath structure and the strong smell is emitted.For meiji 42 years, first Shiro Ogasawara will inaugurate an enterprise.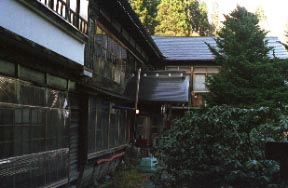 The main entrance of the Taisho 7 Structured.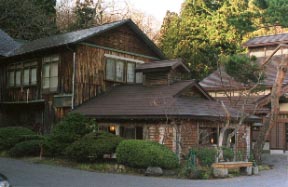 The yuya of "the hot spring of the Kyuan era."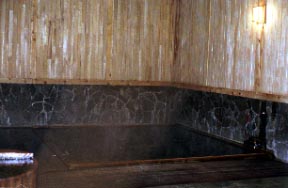 "The hot spring of a Senkyo" made on the fountainhead
A high ceiling, the Aomori Khiva structure.
Dish
Wild grass, a mushroom, and fresh water fish cuisine.(In the case of a continuous stay marine thing)
They are seasonal foods by a season.The Hachinohe port and the Aomori port of seafood are fresh at that of an enough in about 2 hours.
West-building
dish: 15 articles of the thing and dessert of sea squirt picked fish guts and hors d'oeuvre, soup earthenware teapot tailoring, a structure, a char dish grilled with salt and simmered dishes, one-pot dishes and mushroom vegetables boiled hard with soy, the Towada beef loin grilled on porcelain, a leaf Japanese horseradish, tempura, a vinegared and a meal, and a scent (the content changes according to a season.)
Old wings
are 12 excepts, such as a grilled on porcelain.
Special dish: They are natural maitake mushrooms and current price in autumn.

A Hittsumi and raw horse meat are from the 3 public.
Meal place: Suppers are a room and a restaurant of the first floor.Breakfast is a restaurant of the first floor.
Rates
* Please refer to the above-mentioned plan list.
Indoor Hot Spring
"Hot spring of Senkyo" man and woman each 1 The object for "hot spring of the Kyuan era" males, 1
All of three baths are made on the fountainhead, and they are the noted springs which a hot spring wells ups and goes up from the gap between the framing tables of a beech.
100% of the fountainhead, free-flowing hot-spring water.
Guest Room
50 Japanese-style rooms 230 persons accommodation
Inside, 26 old wings, 24 new buildings (20 with T, 4 with BT)
Suite 3 of a Japanese and Western twin
Institution
63 88 large rooms and halls, and a restaurant
Near Station
JR bus tsuta stop /
Towadako Onsenkyo bus stop
- Top -
Towada-shi, Aomori, 034-0301 tsuta
Telephone: 0176-74-2311 FAX:0176-74-2244

Welcome and Send-off
Up to the Towadako Onsenkyo bus stop.
* When you take a bus from JR Hachinohe station, please telephone.
Parking Lot
Full equipment