The Characteristic
It is impressed by having left traditional wooden Large bath structure and a wooden Touji building, and maintaining hot spring resources of a scale like this.It is really kind in the present age of efficiency priority to maintain, though the Large bath structure of having left the effect countrified as a national spa resort, especially the total Khiva structure performs fundamental reconstruction once in ten years.In the bath structure of ten years ago, and the present bath structure, it is also pleasant for the types of the false ceiling to differ to see the device of the ridge beam of the period.Although only the front desk is modernized, people are warm, and if it enters one step, Ryokan section inside of a hall will also have effect, and they will be recommended at stay.The Hakkouda mountains skier all also uses the Touji building which can stay with a low charge, or it is enviable in this-is-the skiing and a hot spring.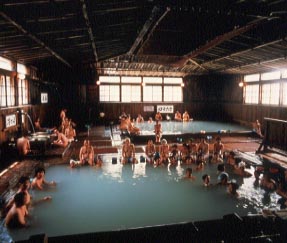 The Khiva Sennin-buro (mixed bathing) * photograph offer inn
Time only for a woman: 8:00~9:00 and 20:00~21:00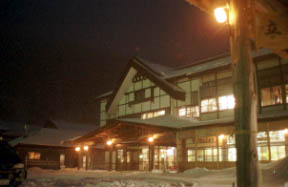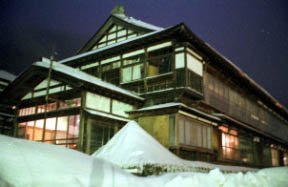 Touji building of early winter Scene of sunset
A hot-spring cure is three-day circumference ten days of the one cycle 3.
Dish
Aomori local culinary specialties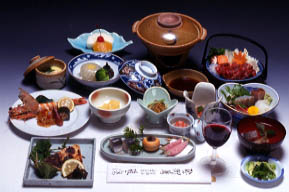 A dish example * This photograph inn offer
Foods
Aomori port seafood (a scallop, a squilla, etc.), wild grass, a wild banboo sprout, duck and a Hakkouda beef.
Example:
An aperitif, an antipasto and a broiled, a soup, a structure, a boiled, a flied, a something, a vinegared, a meal and a dessert
They are one-pot dishes (bird dumpling frozen and dried tofu) in winter.
* Number of articles and the content change on a budget.
It is a
dish specially
:
Mixed stew and Sake which flavored by grilled fish * important point reservation
Meal place: A supper is a room and breakfast is 2F dining-room.

* Only in the Ryokan section No. 1 hall, a supper is also 2F dining-room.
* It is 2F dining-room every morning and evening at the time of Touji section Ryokan foods.
The content of an every day dish changes at the time of a continuous stay.
Rates
* Please refer to the above-mentioned plan list.
Indoor Hot Spring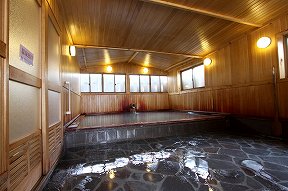 Hot spring of the refurbished ball The second floor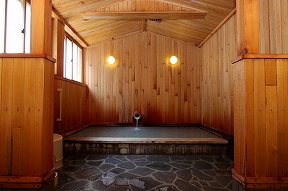 Hot spring of a ball The first floor
- Khiva Sennin-buro (mixed bathing)
Time only for a woman: The bis die of 8:00~9:00 and 20:00~21:00
- The hot spring of a ball (Separated-by-gender smallness bathroom)
One-day-trip bathing: 7:00-18:00 600 yen

* Which [ of the hot spring of a Sennin-buro or a ball ] is it?
1000 yen with hall rest

Which or any number of times are a bathing good and profitable !.
Guest Room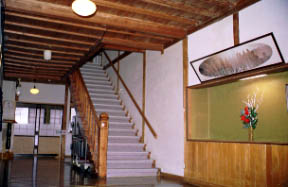 Ryokan section inside of a hall
Ryokan section: 51 rooms, a Touji section: 81 rooms 400 persons accommodation
Institution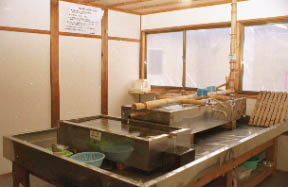 Beautiful Touji building Cookhouse
Four a lobby and halls, a food stand and a buckwheat noodle shop, Sukayu side a "devil's face hermitage", a sanatorium and a sing-along-machine snack "Shushu-Poppo"
Near Station
Aomori station
- Top -
Postcode030-0111
1, Mt. Hakkoda, Aomori-shi, Aomori-ken
Telephone: 0177-38-6400
FAX:0177-38-6677
Welcome and Send-off
Sukayu free pick-up bus
The exit of Aomori Ekihigashi, and before [ from ] AUGA 10:15 and 14:00 (2015)
From Sukayu 8:50 and 12:30(2015)* important-point reservation: Please reserve by the previous day.* The visitor of stay to a sukayu is applicable.
* Employees also use a bus.
Parking Lot
Full equipment