The Characteristic
It is in the foot of Oto (about 100 m, however 1122 m) in altitude, and is a hot spring in a mountain entirely.In a dry river bed, the hot spring of a hot alkaline spring wells ups here and there, and the method of taking a bath here carries out temperature adjustment of this in a clear stream, and goes into the open-air bath of the nature itself which dug the pea gravel.Yes, it is a just kawayu reason.A swim in a river can be carried out and a riverbed can also be soaked in the open-air bath only for itself in summer. [ a digging and ]And the amount of water of a river also decreases and the whole river becomes the "hermit bath" of a have good reputation in winter.
The center of a Kumano major three places, a Kumano-hongu-taisha shrine
It is about 3 hours from a Hosshinmon-oji to a Kumano-hongu-taisha shrine about the Kumano old road.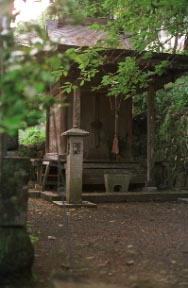 Jyuni-Yakushido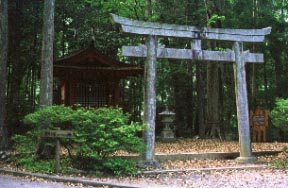 The Kumano old road, "conversion gate Oji"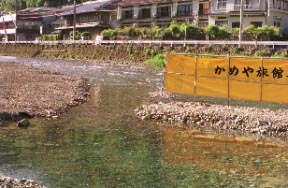 A summer and a kawayu become management of a Ryokan.
Please take a bath after refusing the Kameya.
Fountainhead
Sodium, a hydrogencarbonate, and chlorides spring (included salt, alkaline spring) 73 ° Water-white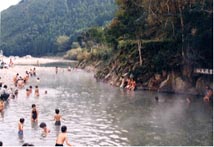 A "hermit bath" winter November - a February
There is a Large karuta party in a January.
Photograph: Hongu-cho tourist agency


Efficacy
Neuralgia, oversensitivity to cold, and lustrous skin
Public Bathhouse
Public bathhouse 1
The open-air bath of a dry river bed is no charge or a small present (200 yen).
* Since it has managed at each Ryokan, please refuse, and enter.
By Train
Shin-Osaka
-> JR Kisei Line limited express, an about 2-hour and 20-minute -> Kii-Tanabe -> Hongu going bus, about 1 hour and 55 minutes, kawayu alighting
Nagoya
-> JR Kisei Line limited express, an about 4 hour -> Shingu -> Hongu going bus, about 60 minutes, kawayu alighting
Kintetsu Yagi station
-> a Hongu or the bus for Shingu, about 5 hours
By Car
Osaka pine-covered area IC
-> Hanwa Expressway and a Nankai-Yuasa road, about 100 km-> Gobo IC->R42 to R311, about 100 km
Nishimeihan Kashiwara IC
-> five articles, about 25km->R168, about 103 km
Contact
Hongu-cho tourist agency: Telephone 0735-42-0735