The Characteristic
The hot spring which seethes with the dry river bed in Kurobe Gorge from Unazuki for truck By-train 1 hour.Some the open-air baths and cave stone bath which stacked the digging stone for the dry river bed are enoughs.The hot spring which carried out the Founded or started to use this hot spring in Masatoshi Bun is a noted spring of canyon No. 1 chosen as the 100th elections of the noted spring.Please be soaked in a hot spring, look at a valley with year-long snow on the opposite shore, the clear stream of the Kurobe river, and the trees of 100 Mt. Nuki or a canyon, and melt into Nature.What is the starlit sky seen while hearing the cry of a sculpin night like?
* arrive, if a truck train is not taken -- it does not become precocious -- please be sure to confirm the last train
Example of Heisei 20 To 11/15, it is the 15:40 last from Unazuki. 11 / 16 - 11/30 14:56 last
Kurobekyokoku Railway, a timetable
Although it is the open-air bath only for a lodger which is carrying out the hand structure at every rise of water by inmate full force, I have general opening of the daytime carried out for nothing.
The time zone only for a lodger: 4:00 p.m. - 8:30 a.m.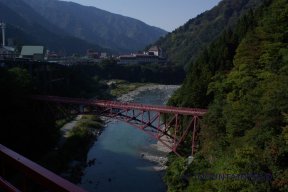 Kurobekyokoku Railway Railroad bridge in Unazuki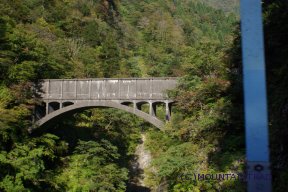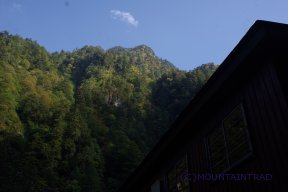 The B/R of before a kanetsuri and a canyon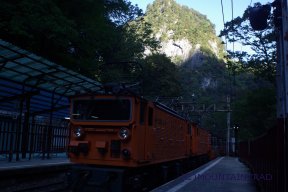 From a kanetsuri station to an east hanging bell mountain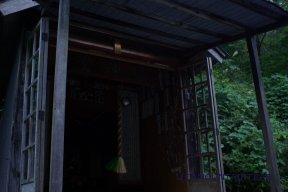 Hall of the Medicine Buddha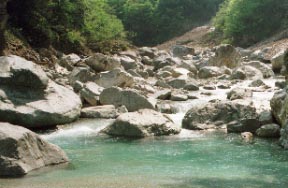 The Kurobe river and a kanetsuri open-air bath are upper parts just for a moment.
Mountain stream fishing can also be enjoyed.
Hot Spring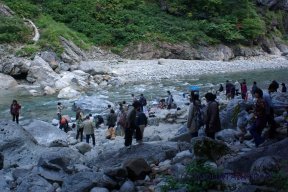 The kanetsuri of daytime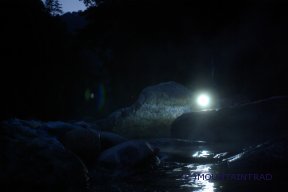 The kanetsuri of evening.Daytime is completely a different thing.

Mountain-stream bathroom: For stay males
(Since it is natural, the size hot water quantity of a bathtub changes.)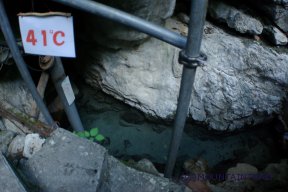 Cave stone bath: For stay women
(Since it is natural, hot water quantity is changed.)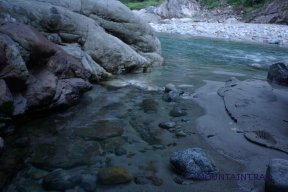 The slightly more tepid natural hot spring in an upper stream.
Sarutobi-kyo

It moves in a zigzag direction most narrowly at the Kurobe Kawamoto style, and they are a flow scenic spot and a special scenic spot special natural treasure.
Mt. Tsurugi (the Hayatsuki ridge - north ridgeline)
Fountainhead
a simple spring and transparency -- tasteless About 42-43 °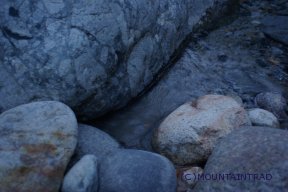 Abundant gushes (2012-10-21)
Efficacy
Gastroenteropathy etc.
By Train
JR use
Osaka -> Hokuriku Line -> the Toyama station or the Uozu station
From Nagoya to -> Hokuriku Line / Takayama Line -> Toyama station
From Tokyo to -> Joetsu Shinkansen -> Hokuriku Line -> Toyama station -> Toyama Chiho Railroad 60 minutes -> Unazuki station
Uozu station -> Toyama Chiho Railroad 30 minutes, the Unazuki station
60 minutes after the Kurobekyokoku Railway Unazuki station, kanetsuri station alighting, on foot 5 minutes
* Truck train business : 4 / 29 - 11/30 (ordinary year)
By Car
Hokurikudou use
About 30 minutes after the Kurobe interchange, Unazuki station About 40 minutes after morning-sun interchange, Unazuki station
The parking in Kurobekyokoku Railway Unazuki Ekimae is convenient.
* arrive, if a truck train is not taken -- it does not become precocious -- please be sure to confirm the last train
Example of Heisei 20 To 11/15, it is the 15:40 last from Unazuki. 11 / 16 - 11/30 14:56 last
Kurobekyokoku Railway, a timetable