The Characteristic
The border of about 3 km of upper stream Yoshiikawa of an okutsu ravine and the hot spring of an alkaline optimum temperature are a continuously and a noted spring wells uping.The hot spring in which the skin carries out a crane crane is known as a beauty's hot spring, and is used also for cosmetics.It has left the uniquely countrified wooden appearance in Mimasaka 3 hot spring, and is a historied hot spring once told that the Tsuyama daimyo-with-a-castle load Mori Tadamasa forbade general bathing, and locked.Having washed on foot says that it is told by natural environment to the extent that it meets five raccoon dogs in the during night drive at ridge from Yubara to an okutsu, and step washing soon, fearing being attacked by wolf and the bear, and standing and watching.
A "The-hot-spring-town-of-Akitsu-looks-like-sinking-beneath-clear-water.translate:mountaintrad" Naoki Prize writer and a Shinji Fujiwara "Akitsu hot spring."(A screen version of an okutsu will be made on a stage in Showa 37)
Step washing: It is carried out by the open-air bath at preservation meeting of a dry river bed for 8:30 to 15 minutes on the Sunday national holiday morning.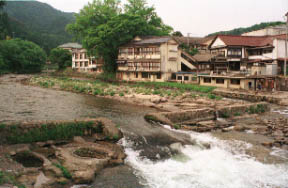 A Ryokan town and Yoshiikawa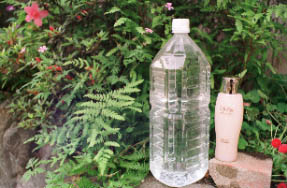 The okutsu can also perform "a beauty's hot spring" and the takeout of hot spring water which were used for the "chair lift signature" of Kose.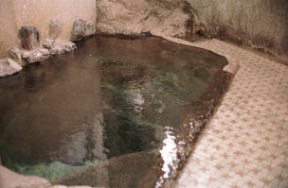 Touwaro men's section of a bathhouse
Fountainhead
Alkali simple spring pH 9.2
Transparency and colorlessness, the clean hot spring of tasteless no odor.
Fountainhead temperature: It calls at an inn. 41.7 ° (Touwaro)
Efficacy
Neuralgia, muscular pain, the arthralgia, a frozen shoulder, a motor paralysis, and a joint bruise [ a harden and ] - Break, and they are - chronicity digestive disease, hemorrhoids, oversensitivity to cold, after [ the illness ] convalescence, recovery from fatigue, and health enhancement.
Public Bathhouse
A dry river bed open-air bath, a washing place combination bathroom
A flower beauty's village, the adult of 900 yen
By Train
Tokyo -> Shinkansen about 3 hours and 10 minutes -> Shin-Osaka
Shin-Osaka
-> Kishin Line about 3 hours and 10 minutes -> Tsuyama station
Himeji
-> Kishin Line -> Tsuyama station
Okayama
-> Tsuyama Line -> Tsuyama station
Tsuyama station
-> okutsu going bus about 59 minutes ->
okutsu
By Car
Keihanshin -> China way Innosho IC -> 3 hours
Innosho IC->R
179 about 25 minutes ->
okutsu