Tenryukyo(Nagano) |Hot springs deep inside Japan
[Outline] Nagano Tenryukyo @Iida Tenryukyo good location to see
[Spring quality] 31.1 ° Simple radioactivity hot spring (water-white)
[Altitude] About 400 m, the canyon of a mountain village
[Environment] 11 houses
[Mountain climbing and sightseeing] The Tenryu ship descent, Motozenkouji, Mt. Komagatake, and the Ina valley trip

The Characteristic
It is dotted with a Ryokan focusing on the unparalleled view "tenryukyo" which nature weaves.Although it is the comparatively new hot spring struck for the Narimoto Taira year, it is proud of the natural radon content of the 7th Japan, and the effect of rejuvenation is called enough.The "Tenryu line descent" while enjoying ravine beauty, and the "Tenryu ship descent" of thrill full marks are popular.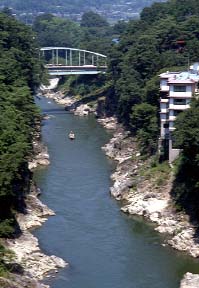 The scenic spot of the Tenryuugawa No. 1 "tenryukyo"
A photograph is the Koya-bashi neighborhood.
Fountainhead
31.1 °, a simple radioactivity hot spring (water-white)
Efficacy
Neuralgia, muscular pain, a chronic digestive disease, recovery from fatigue, a chronic skin disease, chronic women's diseases, arteriosclerosis, hypertension, etc.
By Train
Tokyo -> a Shinkansen optical mata is an echo and is the Toyohashi station -> following.
It is Okaya station ->JR Iida Line at the Chuo Line limited express, and is the Tenryuukyou station.
Toyohashi -> it is Iida Line and wide view Inaji, and they are the Tenryuukyou station, and about 2 hours and 10 minutes.
* A limited express bus can also be used between Nagoya and Shinjuku - Iida.
By Car
Tokyo -> Chuo Expressway -> Iida IC -> about 10 km
Nagoya -> Chuo Expressway -> Iida IC -> about 10 km