The Characteristic
It is an enough hot spring at the place which the mountain surrounded the upper part of a reisenji river, and the four quarters, and old nature was left behind as it was, and extended far back.In a hot spring resort entrance, the big tree of a miraculous fountain Zen temple and a zelkova is an enough.The hot spring which prospered as a hot spring belong to temple of a miraculous fountain Zen temple.The public bathhouse of the countrified air is also popular.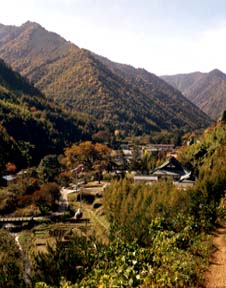 A miraculous fountain Zen temple is visible a reisenji complete view and on the right of middle, and the big tree of a zelkova is visible to a left hand.
Fountainhead
42 °, transparency and colorlessness, a
gypsum-fibrosum bitter taste spring
only [ within the prefecture ]
Efficacy
Hypertension, the stomach and intestines, hemorrhoids, neuralgia, rheumatism, gout, a wound, a burn, a skin disease, atopic dermatitis, etc.
Public Bathhouse
A reisenji public bathhouse, 100 yen
By Train
Tokyo -> Shinkansen -> Ueda station -> kakeyu going bus ->
A reisenji entrance, the "Miyazawa bus stop"
Nagoya -> Matsumoto station -> kakeyu going bus -> terminal "kakeyu"
From the above-mentioned bus stop to a welcome and send-off (Izumiya Ryokan)
By Car
Tokyo -> Joshin-etsu Expressway -> about 27 km of eastern part IC-> general ways
Nagoya -> Nagano Expressway -> about 28 km of Matsumoto IC-> general ways