The Characteristic
It is obstructed by the hard base rock in the place which the husband of the inn which ran the lodge at the time filled digging with energy from Showa 45 for three years when he wanted to strike a hot spring as anything to Yamada-Bokujo without a hot spring, but was dug 300 m,It is the hot spring which the village heard that the hot spring came out from the tower dug in the Matsukawa ravine, and it exercised to Yamada-Bokujo somehow, and was the zeal, overcame the distress of carrying out a 300-m pump rise from the fountainhead, and was realized when self-finance also hit the bottom.
The hot spring of a pastoral Heights from which pasturage of Yamada-Bokujo will begin if summer comes and which makes the Swiss Tyrol consider.There is no boundary in the area of people and oxen and horses, and it meets beeves in a way or a space outside the front door.That can be heard is not the sound with which wooden clogs is sounded but a nationwide very new hot spring of a hoof called a sound rarely.It is in a position which stands face to face against a Japanese North Alps, and the night view of Nagano and the view of north A are wonderful.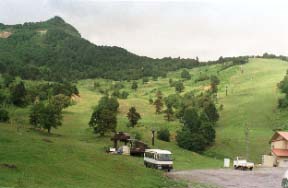 Yamada-Bokujo
It is a YAMABOKU wild snow park in winter,
A Takochi course, 13 km in full length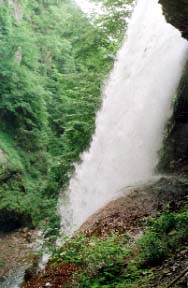 Matsukawa ravine "Kaminari waterfall"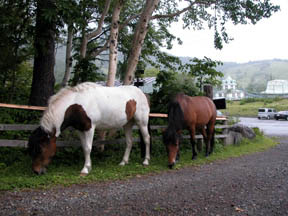 An open-ranch season is oxen-and-horses priority.
Fountainhead
97 °, a sulfur sodium salt ghost spring
Efficacy
The rheumatism, a skin disease, athlete's foot, a gastroenteric chronic disease, the neuroparalysis, chronic poisoning, a chronic pus, women's diseases, a pimple, diabetes, lustrous skin.
By Train
From Tokyo
to :Shinkansen Nagano station -> Nagano Electric Railway, the Suzaka station
From Nagoya
to :Limited Express Shinano Nagano station -> Nagano Electric Railway, the Suzaka station
From Suzaka to a bus -> it yamada-terminal-gets off, -> welcomes and sends off.
By Car
Tokyo
-> Joshin-etsu Expressway -> Suzaka Nagano-higashi IC
Nagoya
-> the Joshin-etsu way in a center and Nagano -> Suzaka Nagano-higashi IC
From
Suzaka Nagano-higashi IC
to about 24 km