The Characteristic
They are the foot in Mt. Nunobiki, and the hot spring as which it regarded from Asama-yama and which has been loved by local as a public bath in the quiet place of the Chikuma River opposite shore.The hot spring which carries out a flow out naturally from 840 m below ground is felt like an enough mall spring of a weak oily smell like the Hokkaido Kussharo lake Ainu village, enjoys the smell from underground, and has become infatuation at the spring quality new in Honshu, and a fresh and soft feeling to touch hot spring rather than calling it a chlorides sodium spring.In a large bathtub, the 47 ° fountainhead can do a nagayu comparatively tepidly, and if it enters [ the cold water bath and by turns ] which led the well water which is 23 degrees, it can do a long bath further.Although the color is filtering the mineral-rich sediment through thin yellow transparency and a fountainhead pouring gate with the net, it is still a hot spring with many mineral-rich sediments.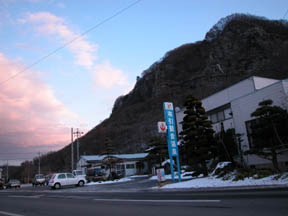 The isolated lodge of the Iwayama hem which stands in a row from Mt. Nunobiki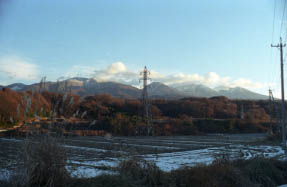 The circle of a hot spring, a takamine Heights, the mountain range of Asama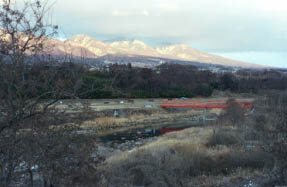 It is flow Chikuma River about the neighborhood.

Asama-yama, a takamine Heights
The shoulder of active volcano Asama-yama and a takamine Heights are steep ranges of hills with an altitude of 2000 m, and their trekking while enjoying alpine flora is popular.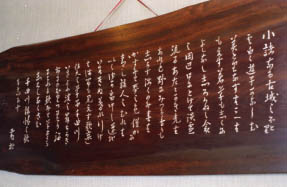 Touson Shimazaki Komoro -- border of an old castle
It is pulled to "beef and is Zenkoji ".
It is a ground of the legend referred to as the old woman without a faith having pursued the cloth concerning the corner of the beef, and having been followed and attached to the Zenkoji.There is a temple dedicated to the Kannon built to the rocky mountain "Mt. Nunobiki", and Tomi and the view far overlooked from the round Heights of a hot spring to a takamine Heights and Asama-yama are brilliant from Komoro-shi.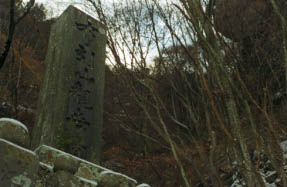 It is ascent of about 15 minutes from an approach trailhead.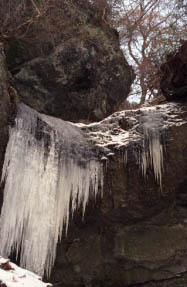 Three-step waterfall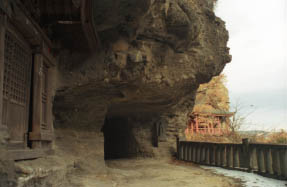 A rock corridor and temple dedicated to the Kannon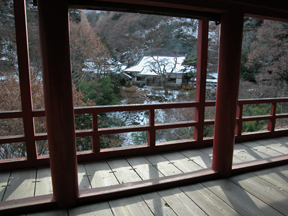 From a temple dedicated to the Kannon to a main shrine
The Unno inn, the Shinshu northern-countries highway The 100th elections of way in Japan
The Edo period prospers by sericulture an inn store and after that.A magnificent building with a Udatsu-fence, an out bound beams, and a lattice door is built and located in a line.A loud hut root is the smoke omission which burned fire because of heating like a silkworm.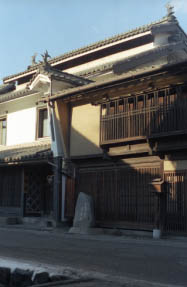 Unno inn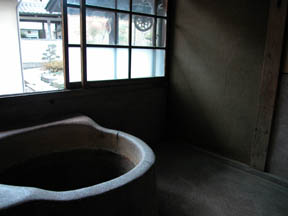 Unno inn scientific library (admission fee of 200 yen)
Komoro ruined castle Kaiko-en park
Magnificent Yamato, the remains of a castle tower, Toson Memorial Hall where a height of no less than 2 stories has the Yamamoto Kansuke construction of a castle and now are enoughs.
Fountainhead
Sodium salt ghost spring
Fountainhead temperature:
A natural gush, 47 °
100% of fountainhead free-flowing hot-spring water and winter are warmed.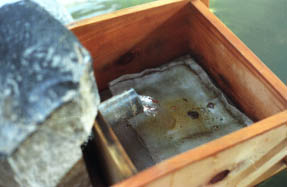 The pouring gate which filters a dark brown jelly-like mineral-rich sediment.
Efficacy
Although arthralgia [ rheumatism, neuralgia, and ] - Burned, they are - cut, chronic women's diseases, hemorrhoids, oversensitivity to cold, recovery after the illness, etc.
Public Bathhouse
A Ryokan indoor hot spring and public bathhouse combination
By Train
Nagano Shinkansen Sakudaira station
-> A JR Koumi Line and part [ about 1 hour ] ->
Komoro station
-> welcome and send-off ->
Nunobiki-kannon
Komoro station
-> welcome and send-off ->
Nunobiki-kannon
By Car
Joshin-etsu Expressway -> the about 7 km of round IC or Komoro IC-> general way ->
Nunobiki-kannon hot spring
of an eastern part hot spring