Dokuzawa(Nagano) |Hot springs deep inside Japan
[Outline] Nagano Dokuzawa @Shimo-suwamachi, Suwa-gun The mineral spring of alum lemon, a medicinal bath
[Spring quality] Ferruginous_aluminum_sulfate cold mineral spring (alum melanterite spring) 2 ° (2 ° of temperature) Reddish brown
[Altitude] About 900 m, the noted mineral spring of lakeside heights.
[Environment] Three houses
[Mountain climbing and sightseeing] The stone statue of the Buddha, the Gisho-do, the Someikan, Lake Suwa, Tateshina, white birch lake, and fog of Miya and a Manji are Mine, Mt. Kuruma, an 8 Shimagahara marsh, and Mt. Yatsugatake in Suwa Taisha Harumiya and autumn.

The Characteristic
It is a wonderful mineral spring which can experience the mystery of a hot spring.The mineral spring is said to the stream "Dokuzawa" at the base of a mountain which extends from the heights by Lake Suwa "Shimosuwa" to Kirigamine and Mt. Kuruma as the Thyolo Thyolo flow out.a pomegranate and lemon juice were mixed -- it needs -- also deliciously it is -- astringent -- an enough -- sourly intense -- he is surprised first clever.It is the touch said "Why juice wells ups."If many minerals are also contained and one drop of tea is hung down, it will react to tannin and will discolor black.Before about 450 year, it is like [ which also obtained the patent medicine permission uniquely in Japan in efficacy Yutaka and Showa 12 ] as it is told that Shingen Takeda used for the wounded person's medical treatment.From the inflammation of myself and the skin, I am indebted.It seems that it is also a hot spring which warms up well from the effect of alum, and the ultra-red ray effect of the mineral contained in a hot spring, and this promotes circulation and makes an effect good for health maintain.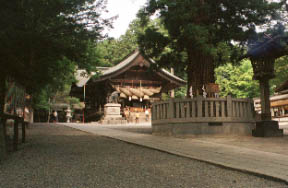 Suwa Taisha "autumn Miya"
One of the Japanese 3 Large strange festivals and "Pillar Festival" of Suwa Taisha are performed for the year of Shin and Tora once in seven years.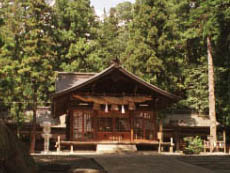 Harumiya and a pillar.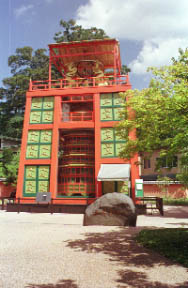 Lake Suwa, the science museum at the time "Gisho-do"
A photograph is the world's first China water transport Gishoudai to be restored.
Fountainhead
Ferruginous-aluminum sulphate cold mineral spring (alum melanterite spring) 2 ° (2 ° of temperature) Reddish brown
Efficacy
It bruise [ neuralgia, muscular pain, a joint harden, a frozen shoulder a motor paralysis and ] - Breaks, and they are convalescence, recovery from fatigue, health enhancement, menstrual disorders, and a chronic skin disease after - chronicity digestive disease, hemorrhoids, oversensitivity to cold, and the illness.
By Train
From the Direction of Kanto

Shinjuku -> The Chuo East Line limited express, and 2 hours and 30 minutes -> Shimosuwa

From the Direction of Kansai

Shin-Osaka -> The Shinkansen, an about 1-hour and 5-minute -> Nagoya -> Chuo West Line limited express, about 2-hour and 10-minute -> Shiojiri -> Chuo East Line, and about 15 minutes -> Shimosuwa
By Car
A
Takaido IC
-> central way, about 2-hour and 30-minute -> Suwa IC->R20, and about 20 minutes -> Shimosuwa
A
Komaki IC
-> central way, about 2-hour and 30-minute -> Okaya IC->R20, and about 10 minutes -> Shimosuwa