The Characteristic
There is some fountainhead and it is raising the Bokon-Bokon and the roar to along the origin in Chikugo River near the Oita-ken border, and a Tanohara river.Although spring quality is mainly a sodium salt ghost and a sulfate spring, it asks superior [ of a kurokawa ] about it that the mountain range here is the Mt. Kuju system, and jigokus are Io-zan and a pulse train from an enough, and it becomes known to it.Although it is the sell of the tour around an open-air bath, that is, a kurokawa by a bathing bill, the dot that the open-air bath of each inn is attractive respectively, and the fountainhead changes with inns is also a secret of popularity.The popularity of the present hot spring serves as a support, and a building is built more by the genuine article and is improving atmosphere of the whole hot spring resort further.Touch called one theme park also strengthened the hot spring, seeing the inn decorated with a folk traditional, the building of a village-headman structure, and a kurokawa.
H16.7.24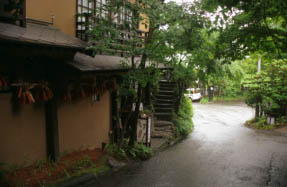 It is a green tunnel as the Kamikawa end.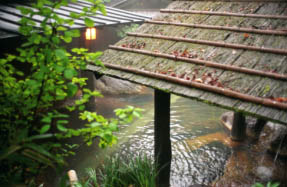 The tour around a kurokawa open-air bath, a bathing bill
A bath can be taken to three open-air baths (inn) by the bathing bill of 1200 yen.Perfect prize: 24 kurokawa all domination [ open-air bath ] and a fighting spirit award: There are 15 open-air-bath domination etc.Photograph: A sanga, the hot spring of a Moyai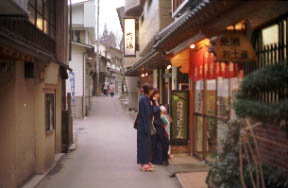 Dressing in yukata colors a hot spring resort as the Shimokawa end.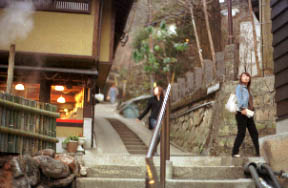 It is fountainhead mind omission of guardian-deity-of-children Yunomae as the Kamikawa end.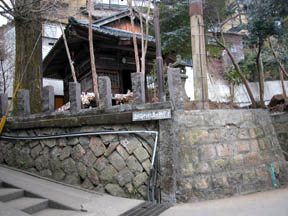 "Jizodo" of a neck-less substitute guardian deity of children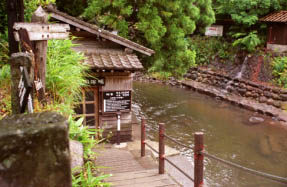 Ana-yu Mixed bathing, swimsuit prohibition 100 yen H15.12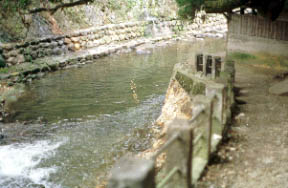 The Chikugo River origin, a Tanohara river and a promenade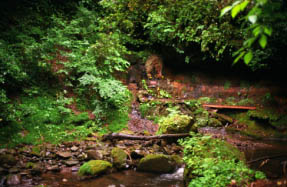 Summer is also a valley of cool and Fudo Myoo.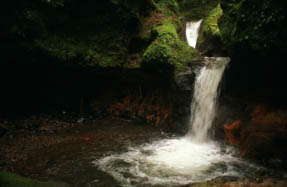 The basin of a waterfall under the inner shrine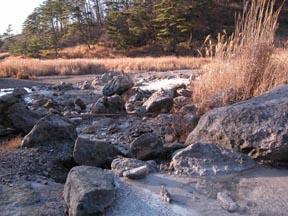 Suzume jigoku
It is an enough Suzume jigoku to superior [ of a kurokawa ].Is forming a jigoku here the foot of Mt. Kuju (Io-zan) here too?The temperature of the gush of a hot spring is also low few.H15.12
Fountainhead
A sodium salt ghost and a sulfate spring are main.
The hot spring of a mountains-and-rivers Yakushi-female budda: Included gypsum-fibrosum salt hydrogen sulfide spring
Fountainhead temperature: It calls at the fountainhead.
Efficacy
It calls at the fountainhead.
Public Bathhouse
An Ana-yu and the Jizo hot spring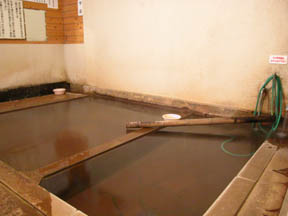 The Jizo hot spring, 200 yen H15.12
Kokichi's hot spring
(bathing institution): The bottom of a Suzume jigoku, a hydrogen sulfide spring
By Train
Tokyo
-> Shinkansen about 4 hours and 52 minutes ->
Hakata
-> JR Kagoshima Line and limited express about 1-hour and 25-minute -> Kumamoto station ->JR Bungo main line ->
Aso station
-
Aso station
-> Intersection bus from Kyushu, and Tsuetate hot spring going -> small country Yuu-station -> bus about 30 minutes -> kurokawa
-
Aso station
-> A Kyushu crossing sightseeing bus and the one for Beppu -> kurokawa
By Car
Kyushu Expressway -> About 70 km of
Kumamoto IC->R
57, a Yamanami expressway, and R442 courses ->
kurokawa
Ooita Expressway -> About 45 km of a
Yufuin IC
-> Yamanami expressway and R442 courses ->
kurokawa
Airplane
Kumamoto Airport -> A Kyushu crossing bus, and about 1 hour and 45 minutes ->
kurokawa