The Characteristic
The dish Ryokan which looks at the trees of a courtyard and can experience a hanter dish in the building which reconstructed the old private house.Each food to which whose broth time was applied and was effective is very delicious, and is a raw bear meat of a have good reputation, an all Ayu repertory of recipes of summer, and an inn for winter matsutake cooked in an earthen teapot to change a season in autumn, and come to visit any number of times.the body of the structure of the char in which winter shines black becomes tight -- distant fire grilled with salt -- hot and soft -- as for the taste to the extent that matsutake food cooked in an earthen teapot is too deep, and the hanter cooked in a pot of a BearDeerDuck, the bear's oil finished the whole mellowly, and I received very deliciously bean paste baking of a raw deer meat slice in rare.making the bath into free-flowing hot-spring water, warming the fountainhead, although a family bath is one -- a feeling to touch hot spring -- it is soft and there is a firm feeling to touch hot water.There are no rates special to the present Suite.By early reservation, at a sunken hearth end, please receive a hanter dish and relax slowly.
08/01 / renewal of 31 visited agains
Discontinuance of business.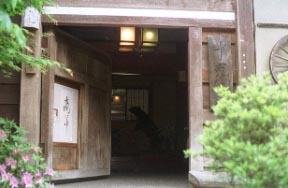 A bear is meeting, when a portal passes through and it escapes from a door.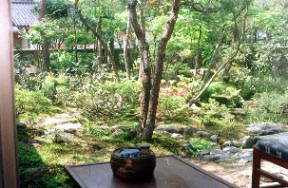 A time of relaxation by a veranda.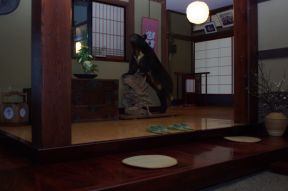 Appearance of a chic Entrance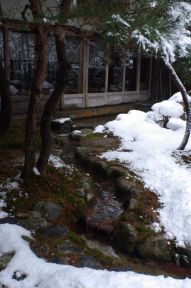 The courtyard of winter
Dish
A hanter dish (all year round), a dish of wild plants (spring), sweetfish fullness (summer), and a mushroom dish (autumn)
Since the raw bear meat is using only the bear under hibernation, it is free from vice, and it is melt softness quickly in a mouth.
As for the broth for soba noodles of the fullness of a sweetfish, broth is also the way of learning by experience called a sweetfish.
Meal place: The restaurant of reconstruction

(A guest room is also good for a Suite)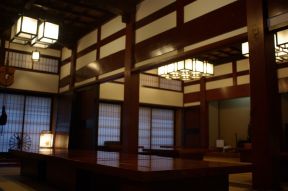 The restaurant of reconstruction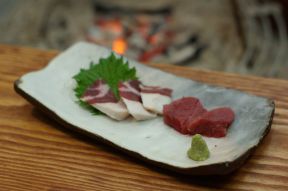 The raw bear meat and raw deer meat slice of a Toueimon have good reputation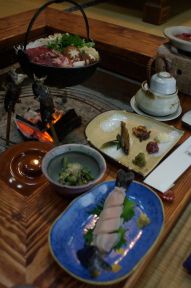 The dish in autumn winter between reconstruction
O An example of autumn winter:
Hors d'oeuvre, such as a dish flavored with flesh of pickled ume, a wild grass small bowl, the structure and dish grilled with salt of char, a bear and a raw deer meat slice, matsutake food cooked in an earthen teapot, a BearDeerDuck hanter cooked in a pot, bean paste baking of a raw deer meat slice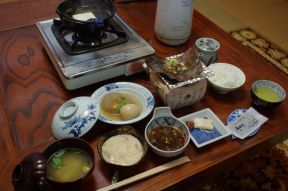 Boiled tofu, Ho-leaf miso, Dioscorea japonica, breakfast of simmered dishes
O The boiled tofu etc. stickiness of Dioscorea japonica and broth were effective are voracious from a morning.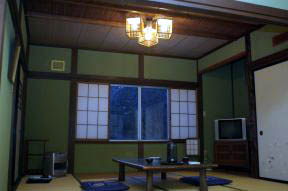 Upper deck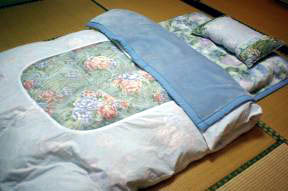 A beautiful feather quilt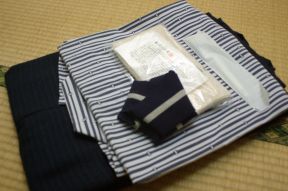 Rates
* an overnight stay with 2 meals -- consumption tax included and excluding bath tax
10,500 yen - 15,750 yen It is based on a dish.
A before holiday, GW, and the Bon Festival of 2,100 yen are raised.
* The New Year is a closed.
Indoor Hot Spring
Family baths are one and 100% of the fountainhead.
B/R it is warming about the fountainhead of about thirty degrees -- the credit style is carried out, circulating.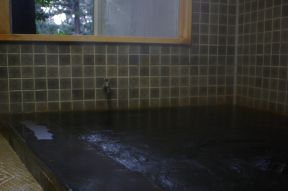 The bathtub with which the fountainhead overflows.
Guest Room
Four rooms (the Suite of inside and reconstruction is one room), 30 persons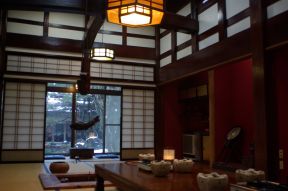 Between reconstruction
Institution
Restaurant (reconstruction private house)
Near Station
Komatsu station -> bus Akase Oosugi line 30 minutes -> alighting before a Toueimon
- Top -
Komatsu-shi, Ishikawa seryo
Telephone: FAX:
Welcome and Send-off
Nothing
Parking Lot
Full equipment