[Outline] The mineral spring of a mystery Kaminoyu-Nagano-kenDokuzawaShimo-suwamachi, Suwa-gun
[Privilege]
[Reservation]
[Business] open year round. regular holiday : not fixed
[One day trip bathing] 10:00-20:00 Adult of 700 yen
[Address] Suwa-gunShimo-Suwa-cho Yashiro 7083
[Telephone] (0266)27-5526 [Telephone]
[Map] Geographical Survey Institute
[The example of a Rates]
The Characteristic
"the mineral spring of the mystery at the quiet base of a mountain" -- enough -- impact -- lodges facilitated with -- although it came out and carried out, it was built and remodeled in Heisei 13 and changed into the wooden Ryokan of the appearance of the joke sum.Especially the Essence idea of this joke and care is felt at every place inside a hall, an earthen floor, a changing room, etc.A Kaminoyu style may increase to the hot spring of every place from now on.Furthermore, also internally this Essence is employed efficiently, it is healthily anxious, and the dish adhering to foods is put in order by the bamboo basket.The side was able to get very deliciously in the health food diet as which consideration of the visitor of hot-spring cure medical treatment is felt in material each, such as a buckwheat-noodles rice gruel and an onion slice salmon.The bathtub of a whole surface Log structure is also pleasant.Many hours are spent on the cold and the prepared contrast bath with the hot spring of rich efficacy, it looks at the trees of a mountain from the window opened greatly or a veranda, and a hot-spring cure is possible with a pleasure slowly.The body was surprised that especially the tip of a foot got warm, so that he could not sleep the efficacy of hot spring components and a coldness-and-warmth bath, and night, and the medical-treatment effect was anew felt as national top class.

Peace space



The quiet morning of winter, a restaurant



The first floor lounge


The feeling-of-purity enough which uses a wooden ear for a washbasin and by which the floor was covered with Take "changing room"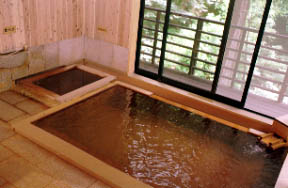 The design which can come out also to the bathtub of a Log structure, and a veranda
The fountainhead is a flow to the fountainhead bathtub from a drink-spring parlor, and a heating bathtub.A structure ideal as a usage pattern of a mineral spring.
Dish
The mountain village dish based on [ which was dished up to the bamboo basket ] wild grass.Hot things are the foods which took out in the back and distributed mind healthily.

Otherwise, they are a buckwheat noodles, a buckwheat-noodles rice gruel, old immersed, and boiled rice.
Material
Own account wild grass, a private cultivation vegetable, local river fish (a sweetfish, char, a carp, a red salmon, etc.), Shinshu-miso, sasanishiki, brown rice, etc.
an Example
An aperitif (Shiojiri wine or pure U.S. careful distillation), a platter (carp sliced raw fish and smoked salmon),A planchet (an eel liver or child of a bee), a small bowl (a mushroom or wild grass vegetables boiled hard with soy), a small bowl (taro sesame thick, starchy sauce),Nakabachi (homemade peanut bean curd), plates (a river fish dish grilled with salt, candied food, dishes boiled in soy and sugar, etc.), simmered dishes (tastes are changed one by one and they are 6-7 articles), chawan-mushi (buckwheat rice and eel), a wine-lees cooked in a pot (or bird dumpling soup), a buckwheat dough, the pickles bowl peak, fruit
Meal place: Every morning and evening restaurant.
Rates
* Please refer to the above-mentioned plan list.
Indoor Hot Spring
Separated by gender.
One day trip: 10:00-20:00 Adult of 700 yen

"The mineral spring of the Dokuzawa of lemon flavor"
Guest Room
All the 10 rooms, 26 persons
Institution
A lounge, 2

Space of the second floor sum
Near Station
From the Shimosuwa station to a taxi (about 3 km)
They are Shimekake (Shimekake) alighting, and on foot about 15 minutes in the Shimosuwa station to a bus.
- Top -
Postcode393-0091
7083, 社, Shimo-suwamachi, Suwa-gun, Nagano-ken
Telephone 0266-27-5526 FAX 0266-28-9106
Welcome and Send-off
Nothing
Parking Lot
Full equipment